[ad_1]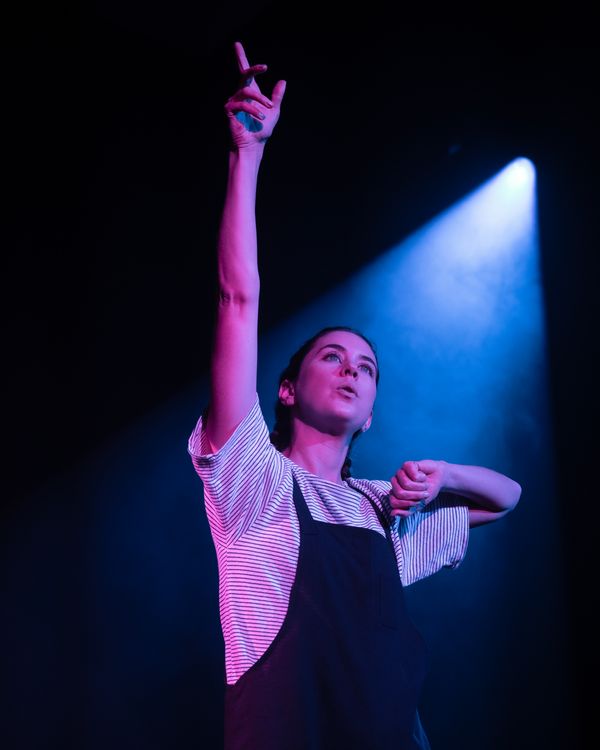 Liz Kingsman as Liz Kingsman, in her one-woman show, One Woman Show.
Photo: Joan Marcus
I find it all so embarrassing," Liz Kingsman says about the success of her one-woman show, One Woman Show, which is fitting because the piece itself is built around the tensions of self–aggrandizement and self-deprecation. The Australian-born Londoner plays a fame-chasing character who has decided to deploy the formula of Fleabag and stages a monologue called Wildfowl about a sex-crazed, over-the-top "relatable" woman who works a quirky job at a wetlands trust and hits rock bottom. One Woman Show has, in fact, made Kingsman successful: It got noticed at a London festival, was acclaimed in the West End, then toured in Australia, and has now arrived in New York, where (with a few edits) it will run at the Greenwich House Theater through August 11.
Jackson McHenry: Your character in the show really wants to be famous, and now she's made it to New York. Does actual fame change the show?
Liz Kingsman: In a way, the play only really made sense in the first room it was performed in, which was this festival in a damp place under the railway station. But I think I can still buy that this woman is never going to be satisfied, so I can always find a way for her to be unhappy about the place she's in.
Did you see a lot of one-woman shows as research?
The research phase is a very comfortable, procrastination-heavy place, so I stayed there as long as possible. I had a wall of Post-it notes. If there was something that I had seen in three different one-woman shows, it would get a Post-it note. Every time I did the show, I'd add in one more thing from the wall. I still have five or six that never made it in.
What's on those?
I was gonna get them published, but I decided not to, at the 11th hour. Much to the chagrin of the publishers, I got in my head about hating it in six months' time and being like, Why would I publish that?
Why give the show-within-a-show character a job at a wetlands trust?
I wrote an initial draft of this while I was working in Cork, Ireland, in a hotel room that had a view out over a weir, watching birds in a river all day. It was just literally in front of my eyes. Then when the show got reviewed in The Guardian, the actual Wildfowl & Wetlands Trust sent an email that was, like, endowed with confusion. I had to explain to them that I never thought anyone was going to see this. For the West End, I paid them back, because we put them in the program and had a way to donate on the way out.
How did you develop this deeply craven woman desperate to get the attention of TV producers?
My friend Lola and I sat down and basically pretended that she was you, interviewing me for a publication after the show had come out. She asked me questions and I answered them and then I spent time transcribing hours of this improv into a sort of script. Then we did another session where we were both elite women interviewing each other about their eliteness, like it was a panel or something. We put an excerpt from that in the program as additional content.
In this show, the character's boss is an Australian woman who points out that Liz is acting like a stereotypical manic pixie dream girl for attention, basically becoming a voice of reason in the middle of this parody. What were her origins?
I couldn't figure out how to get my own thoughts in there versus the character of Liz's. I had the idea that there could be someone in the story who just says them, which sounds so simple now. I said that to my director, Adam Brace, and he said, "Oh, that's fun," and if he said, "That's fun," you knew it was correct.
At this point, can you still appreciate shows of the kind you're poking fun at?
That hasn't changed. It has affected my relationship to auditions—I can't audition for any roles that are too similar to the one that I parodied. Imagine if I just, at face value, played a woman hitting rock bottom? But those roles are quite fun! I've made things harder for myself.
You spend the show in black overalls over a striped shirt, a deeply "relatable girl" outfit. [Ed. note: Phoebe Waller-Bridge wears a very similar outfit in Fleabag.]
People think it's a reference to one particular TV show, but it's not. They all wear overalls in these shows. You think there would be a crazy reason, but it's just that black and white are the only colors you can wear when you're doing an hour-and-ten-minute show without sweating through. It's the safest, classiest thing that's in the realm of these tropes. If you go downstairs into my greenroom, it's just a sea of striped shirts and black overalls. I have no system, so they're everywhere.
All the same, or are there variations?
They're four of ASOS's best designs. This is now a sponsorship campaign.
[ad_2]
Source link