For some days now, Funke Akindele and Toyin Abraham in their competition for the highest-grossing movie of the year, have been bragging about how well their movies, have been doing in the Nigerian cinema box office.
Funke Akindele announced on Wednesday, December 28 that her movie, Battle on Buka street has grossed over N200 million at the Nigeriain box office in 12 days.
It grossed N34 million on Boxing Day to become the biggest single-day earner in Nollywood in 2022.
Not to be intimidated by the feat, Toyin Abraham who released Ijakumo on December 23, on the same date also announced that her movie hit N31million in one day and N65 million in just 5 days.
"Highest single day for an 18-rated indigenous language film in 2022 N20million on 26/12/2022…..For a movie rated 18 in a festive period. I work so hard joor. Thank you so much Nigerians thanks Toyintitans" Toyin announced with pride.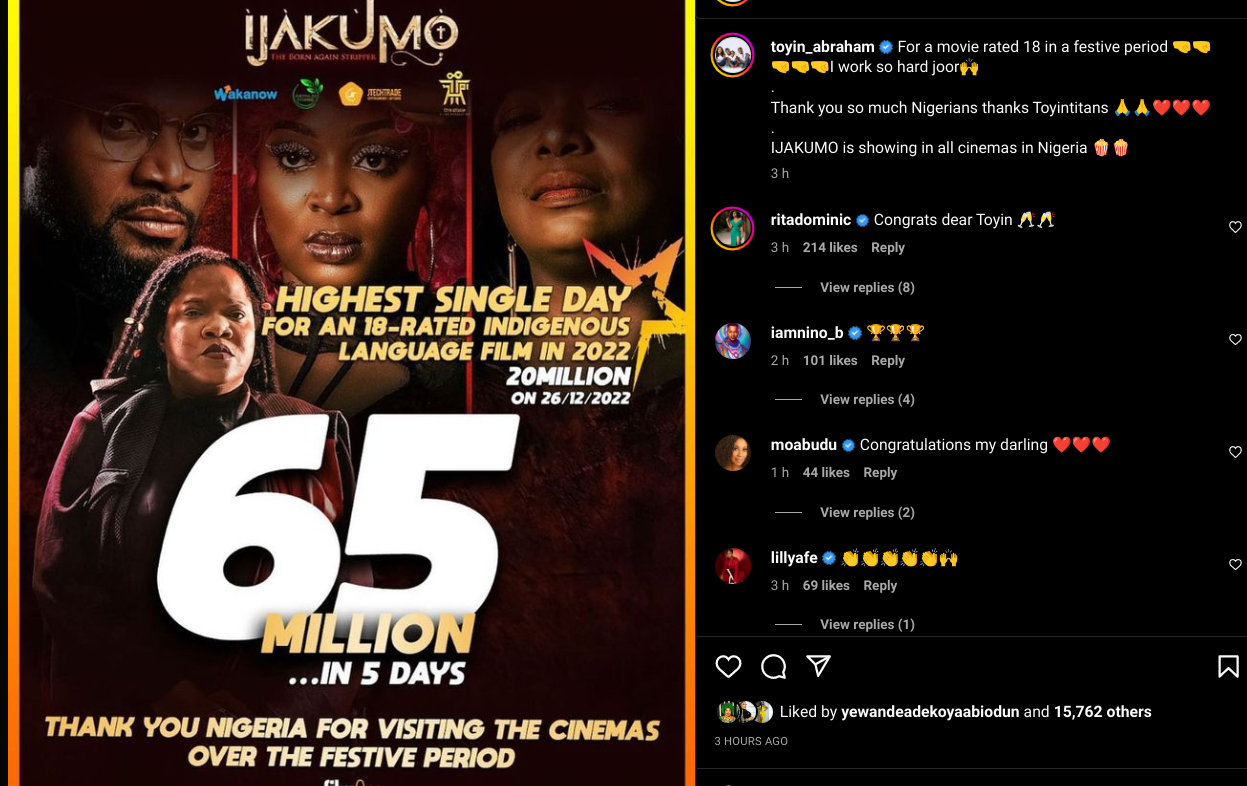 Now taking a step ahead of Toyin Abraham, Nollywood actress Funke Akindele has decided to premiere her new movie Battle on Buka Street in the United State of America and in the United Kingdom.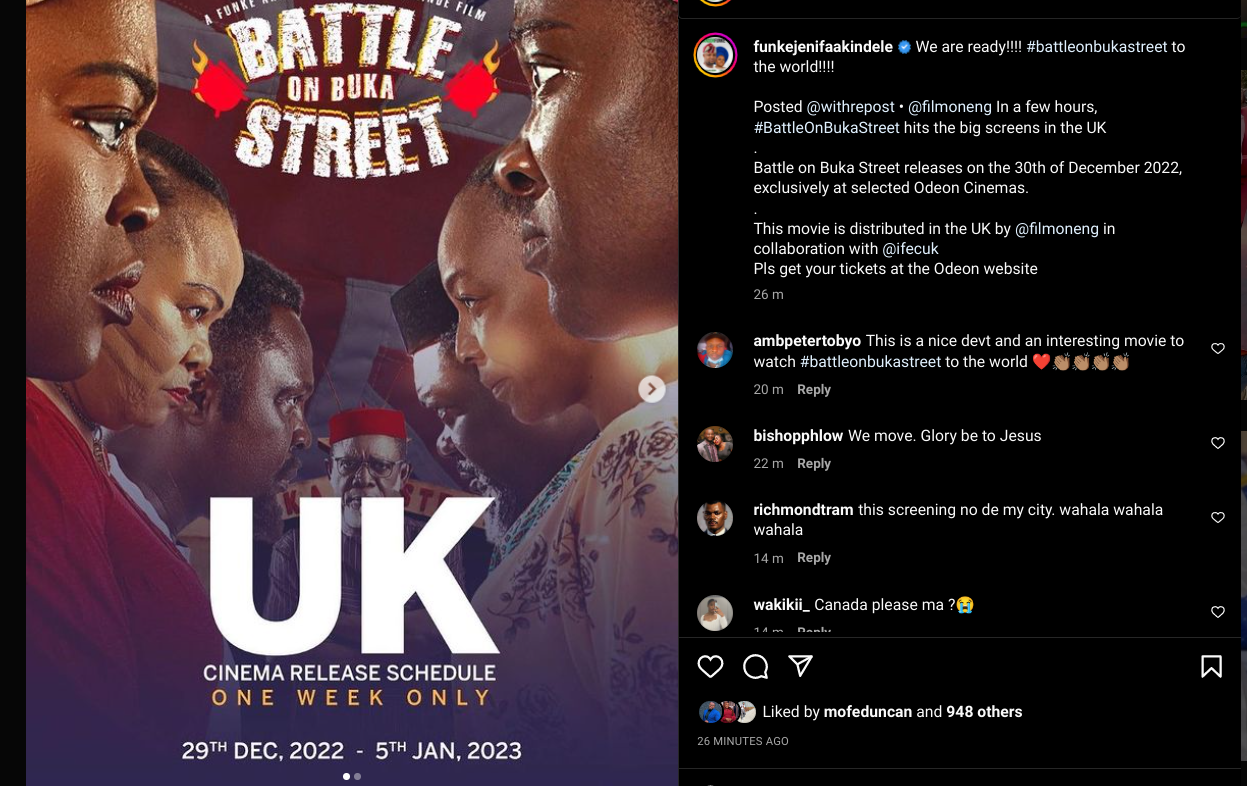 The 45-year-old made this known in an Instagram post on Wednesday, December 28.
According to her, the movie will screen in the US from Thursday, December 29 to Thursday, January 5, 2023.
She captioned her post: "USA!!!! We are here!!! Battle on Buka Street here!! Grab your tickets fast!!! In a few hours, we take over USA! Battle on Buka Street releases on the 30th of December 2022, exclusively at selected @regalmovies Theatres with Advanced Screening on the 29th."
She also announced the movie will premiere in the UK from December 29th to January 5th, 2023.
 Mercy Johnson receives praises from Funke Akindele, dissociates self from Toyin Abraham's new movie
Kemi FIlani recalls that Actress Funke Akindele recently showered praises on her colleague, Mercy Johnson for doing an awesome job with her role in her newly released movie, Battle on Buka street.
Funke Akindele in a recent Instagram post wrote "My darling Mercy, it was so much fun working with you. You are a fantastic Actress. Your interpretation of the AWELE character in #battleonbukastreet was awesome!!! It was a job well done. I wish you all the best dear because you will be winning a lot of awards with BATTLE ON BUKA STREET!! Remain blessed my darling."
Acknowledging the appreciation post, Mercy Johnson responded by saying "I am speechless, your humility and leadership is second to none Aunty mi…Thank you for nurturing me and having me on your set..God bless you always"
Meanwhile, a check through Mercy Johnson's page, showed that the happily married mother of four has completely dissociated herself from her colleague, Toyin Abraham's movie, Ijakumo by failing to put up a promotional post in her honor.
Also, Mercy Johnson was visibly absent at Toyin Abraham's movie premiere as it appears that she is shying away from being involved with her because of her new relationship with Funke Akindele; who is not friends with Toyin Abraham.
Kemi Filani recalls that Mercy Johnson became best of friends after Toyin Abraham featured her in her movie, Ghost, and the tout too in 2021, however, it appears that things have fallen apart between them.5
Source link