Recently, the diecast company Lionel Racing dropped a massive tease. This announcement is expected to drop on December 5th and the official NASCAR diecast producer gave no hints. Naturally, this sent social media into a frenzy, as fans were both excitement and trying to guess the surprise. The reason behind this massive announcement is probably because Christmas is just around the corner.
ADVERTISEMENT
Article continues below this ad
As mentioned before, Lionel Racing is the official diecast producer of NASCAR. So people have to go through the company to buy a diecast of their favorite driver. With Christmas approaching, the company will be eager to do something special for the fans. This way, they can spread some holiday cheer for all their customers.
ADVERTISEMENT
Article continues below this ad
How did NASCAR fans react to the possible Christmas tease?
The excitement went through the roof as people anxiously waited for the 'legendary' announcement. They all knew that whatever news comes out, it would be interesting and make Christmas the 'best time of year' for NASCAR fans. This news also did not stop the fans from trying to vie for special attention. Honestly speaking, the special attention could mean anything from discounts to exclusive merchandise, to more goodies.
DIVE DEEPER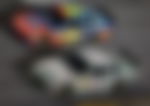 The official handle of Lionel Racing took to Twitter and tweeted,
This sent fans into a frenzy as they expressed their excitement while also trying to guess the crux of the impending announcement.
Oh man that would be legendary

— JalenHurtsfan (10-1) (@JeffersQuentin) December 2, 2022
Interesting very Interesting lol love u Lionel Racing

— 🏁KING🏁 (@King_8KBFan) December 3, 2022
However, some people thought that they had a good idea of what the announcement was about. Back then, Lionel Racing used to have a diecast Santa Claus to hand out gifts. Few people even began to plan out their gift list for Santa Claus. All in all, the announcement has everyone hyped, and the fact that Lionel Racing has played coy only builds the hype.
I hope it's Diecast Santa! I've been waiting for this for a long time!

— Thomas Selbe (@ThomasSelbe) December 3, 2022
ADVERTISEMENT
Article continues below this ad
@Lionel_Racing I hope it's Diecast Santa because if it is! I wish for an Eric Almirola Mew Hampshire win Diecast! 1:24 maybe elite!

— Dylan Medeiros (@DylanMedeiros20) December 3, 2022
ADVERTISEMENT
Article continues below this ad
For the moment, everyone will have to wait for December 5th, when their curiosity will be, hopefully, sated. Until then, the guessing games will probably continue. All that Lionel Racing has to do is to maintain their silence until the time comes. Or they could play hot and cold with the guesses and rile up the fans even more.
WATCH THIS STORY: Chase Elliott Held Guilty for "Killing" Own Car in Supposed Ross Chastain Dirty Move: "Can't Expect Someone in the Championship 4 to Lift for You"