The 2023 Hôtel de Glace, north of Quebec City, is being built with 2,300 ice blocks and 30,000 tons of snow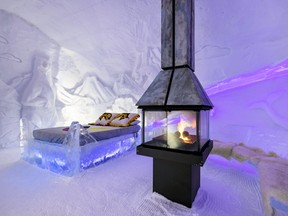 Reviews and recommendations are unbiased and products are independently selected. Postmedia may earn an affiliate commission from purchases made through links on this page.
Article content
Some winter wonderlands are sculpted by powerful forces of nature, and some are not. For in excess of 20 years, Hugues Painchaud and a team of more than 50 workers have artfully constructed North America's only ice hotel — an ephemeral palace made entirely of snow and ice.
Article content
Open from early January until the end of March, this architectural marvel is a wonder to behold and unique among hotels on the continent.
Article content
Last December, I visited Hôtel de Glace while Painchaud, the foreman of the project, and his team were in the middle of their six-week construction period. I donned a hard hat, picked up an ice-carving tool and helped to shape one of the magnificent columns in the hotel's Grand Hall. I'm not sure if the workers had a nickname for me, but the only other journalist to ever work on the hotel was dubbed "the Brad Pitt of Korea." As a middle-aged woman, it's hard to compete with any version of Brad Pitt, so I didn't try.
Canada's first ice hotel was built in 2001 and more than 20 years later you might expect the construction team to find the task of building it commonplace, but they don't.
Article content
"It's exciting to watch it develop," admitted Painchaud, who has worked in many capacities on the construction team and has served as project foreman for about seven years. "The design is different each year and that makes each build unique."
Building an ice hotel is a job with particular challenges. "Much of the hotel is built out of snow, but it isn't regular snow," explained Yanick Lajoie, a snow cannon operator on the 2022 ice hotel. "We use a snow cannon to make snow that is 40 per cent more dense than regular snow. It increases the stability of the structure."
After the snow is made, it is packed into a mould that is used to shape each of the rooms. The first mould to be used on the hotel was called the Sweden mould. The design was patented in Sweden and the original builders of Canada's ice hotel had to get permission to use it. Over the years, the Canadian team developed their own mould that they call the Quebec mould. The Sweden mould has a Roman arch, and the Quebec mould has a gothic arch. Painchaud said he prefers to use the Sweden mould for hotel rooms and the Quebec mould for other design features.
Article content
Construction for the latest iteration of the hotel started on Nov. 22 and it is scheduled to open on Jan. 4, with 30 rooms in total including 22 themed suites. The 2023 Hôtel de Glace, in Saint-Gabriel-de-Valcartier, Que., north of Quebec City, is being built with 2,300 ice blocks and 30,000 tons of snow. It will have an ice bar, a grand hall and lobby, a fun zone with an ice slide, an outdoor terrace, a spa and sauna area, and a chapel. There are 15 confirmed weddings at the ice hotel in 2023 — guaranteed to be the coolest weddings in Canada.
It takes six weeks to build the ice hotel every year and just half a day to take it all down. But a job working on this spectacular hotel is rewarding — even if you aren't the Brad Pitt of Korea. The people who do the final scraping and shaping of the walls are called angels, so it's one of the few places in the world where you can get a job as an angel. That's a nickname to aspire to.
Article content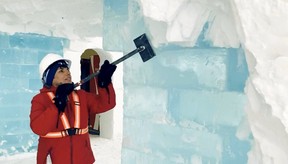 How to spend the night in the ice hotel
In 2021, I carved a bit of the ice hotel, but in 2015 I spent the night there and not to brag — I didn't wuss out. I was in my sleeping bag when the wake-up call came. Every overnight guest at Hôtel de Glace has a second "just-in-case" heated room booked at the four-star Hotel Valcartier, which is on the same property. The temptation is great, and most don't make it through the entire night. Whether you manage to stay in your ice room all night or not, it's one of the most unique and fun hotel experiences in North America. Here's what you need to know if you want to spend the full night there.
Pay attention at the nightly tutorial. This may be the only hotel in Canada with a tutorial on how to make it through the night.
Article content
The ice bar is seriously cool, but if you overindulge you will have to go to the bathroom in the middle of the night. Choose wisely.
Most guests super warm their bodies in the outdoor hot tubs and the dry sauna before heading to their rooms. It helps.
Dress in layers. Wear a hat, a scarf, gloves, warm socks, and boots.
Turn out the lights and blow out the candle before zipping up your mummy bag. Seriously, it's annoying if you forget this step.
When you feel like packing it in, remember that there's a real sense of satisfaction in not wussing out.
— Debbie Olsen is an award-winning Métis writer and a national bestselling author. Follow her adventures at www.wanderwoman.ca.
Source link