Why are Funko Pops so popular?
A key part of Funko Pops' rise to prominence has been their pop culture licensing. Today, Funko, the company that manufactures the toys, holds over 150 production rights licenses, including agreements with mega-popular franchises like Marvel, Seinfeld, the NBA, Breaking Bad, The Simpsons, Stranger Things, Game of Thrones and The Legend of Zelda.
Funko learned early on that their collectables are popular with non-collectors. So they ramped up their licensing machine. Now, if a movie or TV show takes the world by storm, you can pretty much guarantee a Funko Pop collection will follow.
This makes the total addressable market (TAM) of a Funko Pop larger than perhaps any other collectable in the world.
Furthermore, Funko Pops are affordable. Their low price tag — typically $10 to $20 each — is perfect for both collectors and casual fans. Funko lovers, especially kids, can easily accumulate dozens of toys without taking a big hit.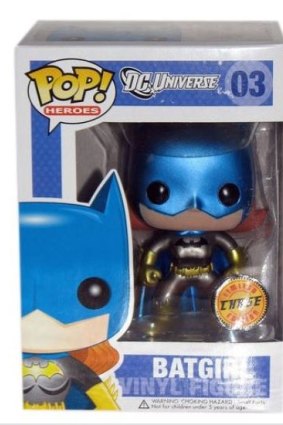 Are Funko Pops worth investing in?
Yes, but only if they're a limited edition. Funko has learned to follow the LEGO playbook, releasing limited edition Pops in almost all of their popular lines. The two key limited edition terms to know are Exclusive and Chase.
Exclusive Funko Pops are specific to an event (usually Comic-Con) or a store (EB Games, Target, etc). These always include a sticker indicating the event or situation it was released for. Unlike regular Funko Pops, these are produced once, and then they're gone forever.
Chase Funko Pops are a limited variant not specific to an event or store. Its design, colour, accessories, glow, imprint or materials differ slightly but significantly from the original. Chase Funko Pops are recognised by the golden sticker on the front of the box.
When a figure does have a Chase version, it's usually just one piece per case of 24 (about 4 per cent of the Funkos on offer).
And while most Pops are made of vinyl, metallic Funko Pops like the Batgirl Chase version are some of the rarest and most sought-after. Expect to fork out a month's rent if you want one.
Criticisms of collecting Funko Pops
Collecting is fun, but unlike the vast array of other collectables in the market (like vinyl records or trading cards), they are far from a solid investment.
Funko Pops are extremely volatile, with some calling Funko Pops the cryptocurrency of collectables. Even limited editions notoriously drop in value by 200–300 per cent without warning.
Additionally, many Funko Pops suffer from oversupply, with a lack of true scarcity a real issue. Common Pops are a dime-a-dozen, and the days of ultra-rare Pops seem to be gone.
'Limited edition runs' also aren't as exclusive as they seem. The company regularly manufactures over 100,000 Pops per release. Even special versions usually have runs in the tens of thousands.
So, should you stock up on some Pops?
Funko Pops are the quintessential collector's item. The gateway drug for collectables: high-quality, well-priced toys that look terrific on display. It's sort of like a modern-day Pez.
Some collectors are wary of viewing these things as viable money-makers. Oversupply is a big issue, and unless you have Exclusives or Chase versions, you're not sitting on anything valuable.
The 'Holy Grail' of Funko Pops is likely the glowing Alex DeLarge Clockwork Orange Funko. Its release was limited to just six pieces, all signed by Funko CEO Brian Mariotti, who personally gave them away to top Funko collectors.
The Funko collector's database estimates the value of this ultra-rare Funko at $26,060, double what it was worth just a couple of years ago
But even if you can't afford the Bentley of Funko Pops, rest assured there are plenty of other Pops with your name on it. The enormous range has led to mass appeal and a collector flywheel effect, where more characters & versions lure new people into the hobby.
There are certainly more lucrative alternative investment opportunities out there (we'll cover a better one in the next issue). But at the end of the day, collecting Funkos is just plain fun.
Advice given in this article is general in nature and is not intended to influence readers' decisions about investing or financial products. They should always seek their own professional advice that takes into account their own personal circumstances before making any financial decisions.
Stefan Von Imhof is the co-founder of alternative investing community and fund Alts. His favourite alternative investments are vacation rentals, cashflowing websites, and especially vinyl records.
Source link