"Top Gun: Maverick" soared, "Avatar: The Way of Water" swam, and superheroes took a teensy, tiny, little bit of a hit.
Here's a look at the winners and losers at the 2022 box office.
Winner: Tom Cruise and James Cameron.
"Top Gun: Maverick" was the year's top grosser at the North American box office, pulling in an astounding $718 million, enough to put it at No. 5 on the list of all-time moneymakers. In just a few weeks of release, James Cameron's "Avatar" sequel, "Avatar: The Way of Water," is No. 2, with $464 million and counting.
This one-two punch from the box office behemoths is significant for a number of reasons, but let's start with this: their triumph makes 2022 the first year since 2017 that the box office has been ruled by something other than a superhero movie. (That's not counting 2020, when theaters were closed for the majority of the year, and that's also assuming Tom Cruise and James Cameron are not, themselves, real life superheroes.)
Superheroes aren't far behind in the year-end tally — the Marvel entries "Black Panther: Wakanda Forever" and "Dr. Strange in the Multiverse of Madness" are Nos. 3 and 4 for the year — but Cruise and Cameron's films, while both sequels to hugely successful original movies, are examples of Hollywood at its best and show how, when done well, non-superhero properties can still bring in huge audiences.
Cruise will get another shot at the box office crown with this summer's "Mission: Impossible – Dead Reckoning Part One," while Cameron is expected to be up to the plate with his third "Avatar" film in Dec. 2024.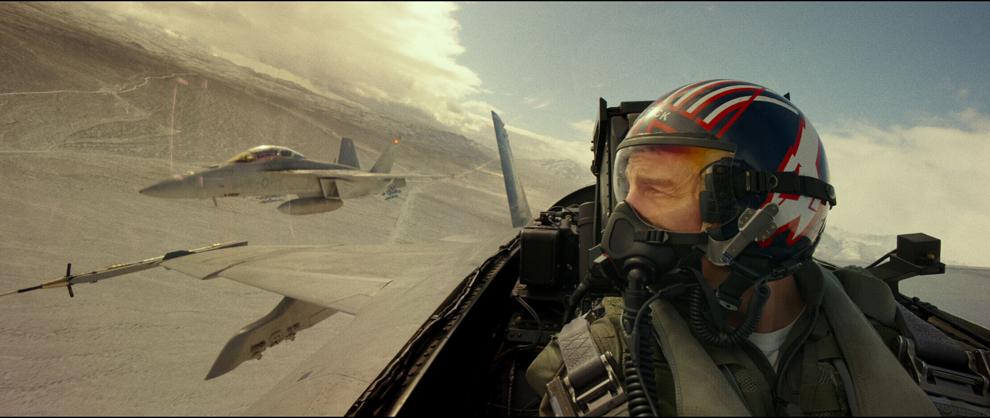 The year's top 10 grossers were all either sequels, franchise entries or adaptations of things that already exist in pop culture, continuing a trend that has been Hollywood's guiding principle for the last two decades. (The last time a movie based on an original idea cracked the year's top 10 was 2016, when the animated entries "The Secret Life of Pets," "Zootopia" and "Sing" all made the list; for non-animated movies, you have to go back to 2013's "Gravity.")
While "Elvis," the year's 11th highest grossing movie, was the top earner that was not based on an already existing property, it was still based on freakin' Elvis; Jordan Peele's "Nope," at No. 13, was 2022's top grossing movie that was truly based on an original idea. And even that is considered part of the larger Jordan Peele Universe of films, but the point is made: it's tough to get a crowd to come out for a film not based on a pre-sold, already understood idea, and it's only getting harder.
One place where original ideas excelled and exceeded expectations was in the world of horror: you can count "Nope" there if you like, as well as the surprise hits "Smile" ($105 million, No. 15 on the year) and "Barbarian" ($40 million, No. 37). "The Black Phone" ($90 million, No. 22) was based on a short story but was new to most people and outgrossed the "Scream" reboot, which was also a hit with an $81 million gross.
The hot streak is likely to continue with this weekend's killer doll thriller "M3gan," another original property and a likely franchise starter, which shows that The Little Genre That Could still has plenty of life left in it.
Winner: Superhero movies.
You can win a bit less and still be a winner. The Marvel Cinematic Universe isn't going anywhere, and the year's Top 10 boasted three Marvel entries (the "Black Panther" and "Doctor Strange" entries, as well as "Thor: Love and Thunder," which came in at No. 8 and grossed $343 million).
Add in the DC entries "The Batman" (No. 7, $369 million) and "Black Adam" (No. 10, $168 million) and the year's Top 10 was half superhero movies.
But there were some signs of fatigue within the genre, and "Wakanda Forever's" $441 million is well short of the original "Black Panther's" $700 million. Marvel's next "Phase" kicks off next month with "Ant-Man and the Wasp: Quantumania," which will be a good test of how audiences are feeling about the state of superhero fare. It'll for sure be big, but will it be huge?
"The Fabelmans" flopped with $12 million, "Babylon" has only grossed $11 million, "The Banshees of Inisherin" barely kicked up $9 million (it's already available at home on HBO Max) and "Tár" pulled in less than $6 million.
There used to be a time when a stately drama with a serious awards pedigree could eek out a good run in arthouse cinemas, but look around and notice what happened to those arthouse cinemas, and the movies themselves aren't far behind.
The real life for those movies in this day and age may be at home, where "Glass Onion: A Knives Out Mystery" has been a streaming sensation for Netflix.
Or maybe unconventional awards fare makes so much money that the awards are forced to notice: the $70 million gross of "Everything Everywhere All at Once" has made offbeat sci-fi multiverse tale a surefire best picture contender, and also in the best picture conversation are "Top Gun: Maverick" and "Avatar: The Way of Water."
Which is just another example of how in 2022, no matter where you looked, it was all about Cruise and Cameron.
Source link