Young Avengers Omnibuses rushing back to print, back issue prices going up, something seems to be in the air right now.
---
Bleeding Cool gets the word that both the Young Avengers Omnibuses will be going to a rushed second printing from Marvel very soon. Which makes for interesting timing, I guess.  One book includes the Allan Heinberg and Jim Cheung run, while the other contains the Kieron Gillen and Jamie McKelvie run. The first volume was published last October but I understand that Marvel expects it to sell out fast, and the second volume already has. I wonder why there may be a sudden expected demand for the books?
The Young Avengers were created for Marvel Comics by Heinberg and Cheung back in 2005, made up of teenage characters who appeared to have links to Marvel's Avengers, even if they weren't exactly what people thought they were. Gillen and McKelvie would relaunch the book and switch stuff up. The series has a reputation for including queer characters, to the extent that by the end of the Gillen and McKelvie series which began in 2012, they joked that they all were. The first team was made up of Iron Lad, an early Kang, Patriot, grandson of Isaiah Bradley, Hulking son of Captain Marvel, Wiccan, son of Scarlet Witch and Vision, Hawkeye Kate Bishop, Stature Cassie Lang, the daughter of Ant-Man, and later Speed, the other son of Scarlet Witch and Vision.
The second team saw a young version of Loki, America Chavez, Marvel Boy and Prodigy join remaining members of the earlier team. And who have had a few revival appearances since.
It is notable Cassie Lang will be playing a prominent role in the upcoming Ant-Man & The Wasp: Quantumania and other characters Kate Bishop, America Chavez, Eli Bradley and Scarlet Witch's kids have appeared in recent MCU predictions. Other young characters such as Ms. Marvel, Ironheart, Skaar, Shuri, Prince T'Challa, Love and more have popped up in a movie or a TV series here and there. I wonder if Young Avengers may be popping up somewhere in the next couple of weeks?
Apropos of nothing, Young Avengers #1 from 2005 is currently selling raw on eBay from $160, and #1 from 2013 is currently selling from $20.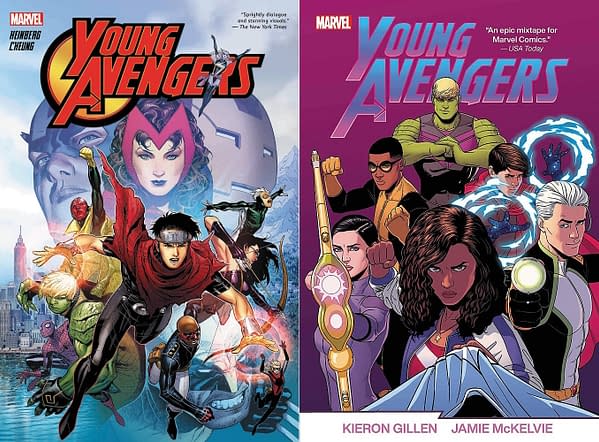 Young Avengers By Heinberg & Cheung Omnibus (Young Avengers Omnibus) Hardcover – October 18, 2022
Acclaimed TV veteran Allan Heinberg and superstar artist Jim Cheung's complete YOUNG AVENGERS collaborations — in a single Omnibus for the first time! When the original Avengers disband, costumed teens Patriot, Asgardian, Hulkling, Iron Lad, Hawkeye and Stature unite to fill the gap. Their first order of business: surviving the wrath of Kang the Conqueror! Second? Weathering the disapproval of the adult Avengers! But when their teammate Billy's magical powers spiral out of control, the Young Avengers set out to find the one person who might help: the Scarlet Witch, who might be Billy's mother…and whose own uncontrollable powers caused the Avengers' dissolution! Once the young heroes find her, nothing will ever be the same! COLLECTING: Young Avengers (2005) 1-12, Young Avengers Special (2005), Civil War: Young Avengers & Runaways (2006) 1-4, Young Avengers Presents (2008) 1-6, Secret Invasion: Runaways/Young Avengers (2008) 1-3, Dark Reign: Young Avengers (2009) 1-5, Siege: Young Avengers (2010) 1, Avengers: the Children's Crusade (2010) 1-9, Avengers: The Children's Crusade – Young Avengers (2011) 1, Young Avengers (2005) 1 Director's Cut, material from Uncanny X-Men (1981) 526
Young Avengers by Kieron Gillen & Jamie McKelvie Omnibus (Young Avengers Omnibus) Hardcover – November 16, 2021
Kieron Gillen and Jamie McKelvie's groundbreaking, critically acclaimed epic is collected in one gorgeous oversized hardcover! The Young Avengers are reinvented for the 21st century as Wiccan, Hulkling and Kate "Hawkeye" Bishop unite with Kid Loki, Marvel Boy, Prodigy and Ms. America. Someone has to save the entire multiverse. They're someone. No pressure, right? As cosmic horror emerges from the shadows of the past, the Young Avengers race desperately across dimensions — but once they take on the gig to save reality, they may never be able to go home again! Meanwhile, Kid Loki is up to something. Surprise, I know. Fight scenes! Kissing! Fake IDs! Kissing! Drama! Conflict! Plentiful feels! (a.k.a. "meaningful emotional character beats" for people who aren't on tumblr.) And oh yeah, nightclubs! Read it! COLLECTING: Young Avengers (2013) 1-15, Marvel Now! Point One (2012) 1 (Young Avengers Story)